Improve Customer Retention & Profits With Your Own Digital LOYALTY REWARDS Program!
Offer your customers safe, flexible, intuitive, and easy-to-use digital Rewards for their purchases from your business and also offer digital Gift Cards for your business.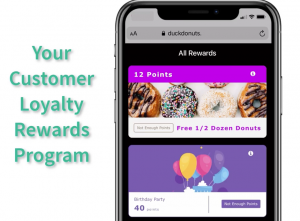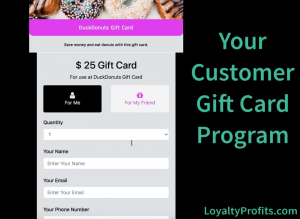 Why should you have a Loyalty Program?
79% of consumers want Loyalty programs
80% of small business revenue comes from REPEAT BUSINESS
Engages, rewards and improves repeat sales
Loyalty programs attract new customers
Build customer marketing list
Also, create free or paid Gift cards
All digital means no-contact, COVID safe
Give exceptional experience to your customers with these features!
Customers can redeem Rewards easily by scanning QR code
Create new rewards quickly

 

Tablet and smart phone mobile responsive
Attractive templates and designs

 

Set your own Reward points for rewards and the value of your Gift Cards
Very easy-to-use system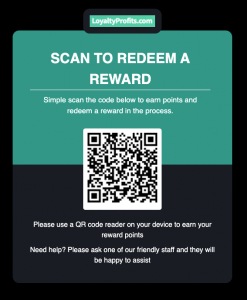 Your number one business asset is your customer list.
Do you have a customer list?
Do you regularly communicate with your list of customers?
Would you like a fast, easy profitable way to build your list and create push button profits?
With Your Own Loyalty Card Program You Receive These Powerful Assets
Email List – to promote special offers
Cel Phone List – to run special offers right to customers phones
Both systems at your disposal to run money making promotions month after month.
You know how important building a relationship with your customers is and one of the best ways to engage, reward and encourage customers to come back for more is…  with your very own Loyalty Card Program.
We offer your business an affordable, personalize, digital, Loyalty Card Program. Most top brands and big businesses have a loyalty programs to keep customers happy and coming back for more, now you can too.
Your own Loyalty Card Program will enable you to build your customer list and offer special discounts and promotions to your customers anytime you want. Special promotions will drive traffic through your door and cash flow into your business anytime you want.
Loyalty programs are one of the most powerful ways to keep customers and build steady cash flow but have been complex and expensive to put into place for small and medium sized business – until now.
You will be able to offer a special ongoing discount and/or occasional special sales and notify via email  or SMS/text message or to your customers of your special Loyalty Card holders only offers.
Our Loyalty Card system can be setup quickly for your business and your staff can be trained in no time how to run it and why it is so important for them and your business, all at a price your business can afford.
Contact us to discuss setting up your own personalized Loyalty Card Program for your business… before your competition does.
Here's how it works:
Create an offer for your loyal customers. ie. 2 for 1, 10% off every purchase or "something" free with every purchase AND monthly special offers via email and SMS/text (we help you create a compelling offer).
Have customer fill out their contact info with our digital form.
Send more special offer notices. Our custom software enables you to email, or text your special offers anytime you want.
Happy customers who refer their friends. Everyone loves a deal and being treated special – build your customer contact list to build an ongoing relationship with special deals and customer appreciation discounts which will keep them coming back again and again.
Customers accumulate points with their purchases in your business and redeem their points for the Rewards you offer.
Contact us to discuss setting up your own personalized Loyalty Card Program for your business…REQUEST INFO
We Will Provide to You:
Custom Online Software to Create, Monitor and Update Your Offers, Members and Redemptions
Text/SMS marketing system
Email marketing system (using your SMPT mail service)
Statistics on your promotions
We host it all on our secure servers
Online, automated application process
Easy to use and great results
Customized designed online Loyalty Cards and Gift Cards.
Contact us to discuss setting up your own personalized Loyalty Card Program for your business…REQUEST INFO